Poetry
For Jason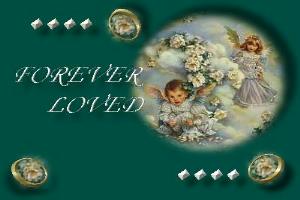 This is an orginal poem written for me
by my friend Donna Carol....
Dear little eyes, sweet little nose,
Tiny little hands, wee little toes,
A piece of my soul, most of my heart,
Mother's little baby, life's precious start.

I want to yell to the world and say,
My dear little baby is born this day.
Day after the tomorrow's another morn
Becomes the day a child is born.

A piece of my soul, most of my heart,
Another babe makes his own start.
And I cry out to the Lord above,
"How can I say thank you for so much love?"

Then as the tomorrow's come and go,
With tears and laughter the afterglow,
I'm suddenly shocked when I find
My dear little baby has his own mind.

I blinked and he became a man,
And loves a woman I'm to understand.
Ah! Then, a gift from God above
Sent with such adoring love,

My heart near bursts with sheer delight
A grandchild comes with unpaled light.
And I can see a bit of my son
In this wee one who's just begun.

But, just when I thought all was well
Death came in and cast its' spell,
And though I knew his spirit lived on
Yet my tears greet each new dawn.

And there the evidence on my bed
Shows just how much my heart has bled.
I tasted such joy, I wasted some.
I knew such sorrow, my heart was numb.

And now I know the rainbow's song,
A tear and a smile both belong
To make the rainbow on my soul
It's vivid hue to make me whole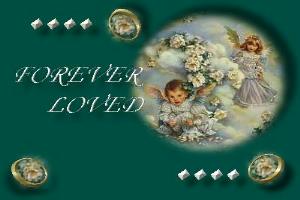 If I Had Only Known
I feel like there are so many
questions not answered.
No good-bye's would have
ever been good enough.
Cause I wish you were
close enough to touch. But your not.
So I have to deal with
looking at your pictures.
All I do is stare into your eyes,
wishing you were with us.
You were the greatest man I ever knew.
The best father our kids could ever ask for.
And I love you
with all my heart and soul.
The day of your funeral, I knew I had to
say goodbye to my love forever.
I know deep in my heart you'll stay.
I feel lonely and lost right now.
I don't know when I'll ever feel ready
to ever have another love.
I know I'll never love anyone
like you, ever again.
I miss your smile, your smell,
your hugs and your voice.
I just miss you so much.
If I had only known
I'd never hear your voice again.
I would have memorized
every word you ever said.
How foolishly I believed
that you would always be here.
You're the one who always
stood beside me,
so unaware one day I turned my head
and you slipped away.
If I had only known
it was my last night by your side...
I'd pray a miracle to stop the dawn.
If I had only known……..
~written by Tammie Williams for Jason~
Visit The Childrens Memorial and Angelic Sites
by clicking on these beautiful pictures.